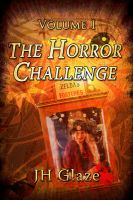 Synopsis:
This first volume of The Horror Challenge includes 14 short stories stories that will provide the thrills you seek in a good horror tale. From the sentimental story of haunting - Spooky, and the comical alien abduction tale, Bob Saves The World, to the final story in this collection, you will find yourself wildly entertained with the stories created by JH Glaze in response to suggestions from his readers.
Since The Horror Challenge stories are all suggested by reader input, this series is unlike any other ever created.
My thoughts:
I love the cover of this intriguing book. I love the stories in the book even more! The author brilliantly weaves tales from seemingly obscure items/ideas. I love the format of this short book, as it allows you to read a story at a time without having to read the whole thing in one sitting. I would recommend this book to all horror lovers, but also recommend that you do not eat or drink while reading ;)
You can stalk Jeff on his
Website
,
Goodreads
and on Facebook
here
and
here
.
You can purchase his books on
Amazon
,
Smashwords
and
Barnes & Noble
.