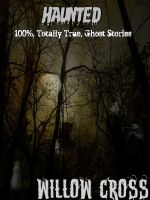 Have you ever heard something go bump in the night and wondered if someone was there? Only to go looking for the cause of the noise and find nothing at all. Or how about unexplainably feeling like you're being watched when you're completely alone? Things disappearing for no reason or strange ghostly footsteps in the hall?
This book is a collage of short stories about a few of the otherworldly experiences I've had. Although they are not movie worthy, you may find them interesting. All the stories are %100 true. Nothing has been added for dramatic effect.
After reading Oceans of Red Volume 1, I could not help but jump towards this book! Willow has a way of writing that makes her books totally addicting! Each of these short tales of hauntings were "spooky" yet hilarous at the same time. I love how she incorporated stories where she was completely at ease with the "others" and stories where she was actually afraid herself! My favorite was the last story about the "Blue Girl" in the older house. Every time I move I am always curious to find what was left behind, although I have never found anything as fun as that painting! This is definitely a fun read for the Halloween holiday.
You can buy the book FOR FREE!!!! at the following locations:
http://www.amazon.com/Haunted-ebook/dp/B005Z53TA8/ref=ntt_at_ep_dpt_1
http://www.barnesandnoble.com/w/haunted-willow-cross/1107079946?ean=2940032827771&itm=1&usri=willow+cross
http://www.smashwords.com/books/view/98948
More info on the Author:
http://www.facebook.com/willowcrossbooks
http://willowcrossbooks.weebly.com/index.html