In the post-apocalyptic world following a pandemic, dark angels arrive in Glory's small hometown to claim the eternal souls of her loved ones. Targeted by evil because of her heroism during the great plague, Glory fights back with the help of gutsy young witch Kaia, inexperienced guardian angel Sasha, and her intrepid demon-fighting dog Hallelujah. Complicating everything, a rift in time reunites Glory with an old flame and forces her to pay a huge price for love. The legend of Glory continues!
The second book in the Legend of Glory trilogy!
Glory was nominated for the 2011 Best Popular Paperback for Young Adults List, sponsored by the Young Adult Library Services Association (YALSA) of the American Library Association.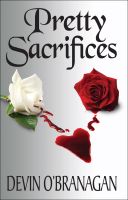 Excerpt:
Kaia was indulging Annie when a young girl crashed through the underbrush and entered the clearing. It was Rory, the twelve-year-old psychic from the Starlight coven in
Georgia
.
Kaia greeted her with, "What the hell?"
Rory rushed to Kaia, knelt, and gave her a clumsy embrace. "Omigods, I'm so glad to see you're still okay."
Kaia drew back and studied Rory's flushed face. "Why wouldn't I be? What are you doing here? How did you get here? What's going on?"
Breathless, Rory readjusted her funky cool horn-rimmed glasses, pushed long tendrils of hair up into the casual bun she wore on top of her head, and then sat back on her heels. "I had a vision," she said in her soft, Southern drawl. "You're going to die." Rory had never been one to mince words. And her visions always came true.
Startled, Kaia had no idea how to respond.
"Since you live off the grid, I couldn't call or email, and every time I tried to connect with you psychically I got intercepted by this new obsession of yours." She poked Annie. "You really have merged with her. When I got a connection, instead of psychic static I got purring. Purring!" She paused to give the mountain lion the evil eye. "So Evan drove me. We drove straight through from
Atlanta
."
Kaia's heart raced much more quickly at mention of Evan than news of her own predicted death. "Evan's here?"
Rory grabbed Kaia by her shoulders and shook her like a mad woman. "Get a grip! We're not talking about the dreaded arranged marriage here. Something's changed. You are going to die!"
Kaia had heard her the first time, but was just trying to process the words. "How?"
"I think it has something to do with Glory."
"I haven't spoken to Glory since we left Savannah months ago."
A hush fell over the witches. A hush fell over the forest. Annie's tongue reached out and gave Kaia's hand an uncharacteristically affectionate lick.
Kaia had never felt her business with Glory was finished. "Can we prevent it?"
Rory shook her head. Her expression was miserable. "I don't think so. There's a quality about it that seems so fated."
"When?"
"I can't get a fix. There's something screwy about the timeline. It's all tangled. I've never encountered anything like it before."
Kaia took in a deep breath.
The forest exhaled.
And in that instant, Kaia knew with complete and utter certainty that she was going to die.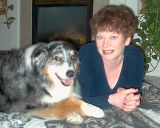 Bestselling author Devin O'Branagan writes novels about uncommon heroes. Her genres include young adult urban fantasy, paranormal thrillers, and comic mysteries. She also writes a humor column for TAILS Magazine, is a member of the Dog Writers Association of America, and many of her writing projects support animal rescue. All of her books are available in both print and eBook formats. Visit her website at www.DevinWrites.com
PRETTY SACRIFICES is available in both print and eBook formats.
Via Amazon, both the print and eBooks are now available internationally:
Devin's Writers' Forum: http://forum.devinwrites.com